Legal teams are at the heart of any successful growth company. These companies are always focused on building enterprise value, which can only be achieved if your legal function is also positioned for success.
modCounsel provides a concierge legal service that integrates right alongside your team to help you deliver on business results. Think of us as an experienced risk management voice improving the quality and speed of decision making from deep inside the trenches. We work exclusively on referrals to ensure a consistent experience for our clients. They will tell you this is a much smarter legal model.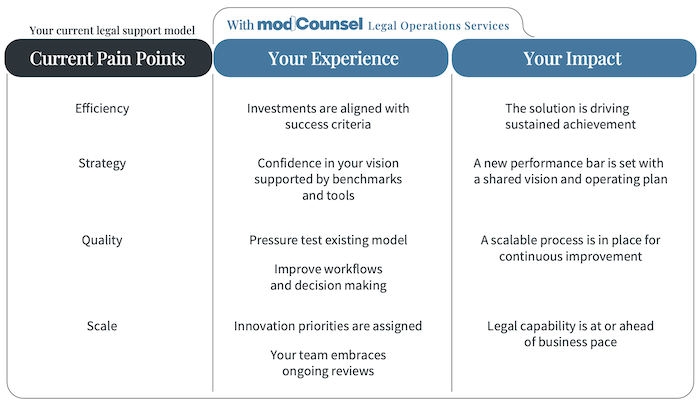 Trusted vendor partnerships
Shared success criteria right alongside your team
Integrated team member providing industry best practices and peer benchmarks
Implement intake solution for legal requests to increase visibility and the broader impact of the function
Migrate existing contracts with benchmarking for key clauses and risk analyses to a new contract management solution
Design 3 year legal department development plan against company's strategic priorities and market benchmarks
Workflow development tailored to legal team resource constraints, technology appetite, and mandate to deliver
Results from our Recent Projects
5 legal tools implemented with 100% year over year utilization growth
98% improved efficiency in the sales negotiation process enabling a more strategic engagement of the legal team
Read more about our specific success stories here or contact us directly to see how we can support you.