Legal teams are at the heart of any successful growth company. These companies are always focused on building enterprise value, which can only be achieved if your legal function is also positioned for success.
modCounsel provides a concierge legal service that integrates right alongside your team to help you deliver on business results. Think of us as an experienced risk management voice improving the quality and speed of decision making from deep inside the trenches. We work exclusively on referrals to ensure a consistent experience for our clients. They will tell you this is a much smarter legal model.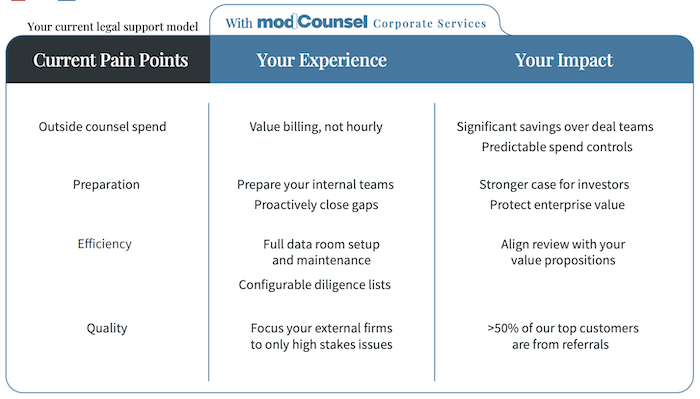 24-hour response time
Proven methods for operationalizing challenging corporate legal requirements
Trusted global law firm network for specialty issues
Employment issues around key hires, executive separations, and global people policies and handbooks
Equity compensation program design, board and committee governance, and internal rollout with equity tool training for 15,000+ global workforce
Insurance program risk assessment, programs design, application and renewal process and ongoing insurance review for contracting needs
Privacy compliance support with policy development, market preparation for privacy-related offerings, ongoing data protection agreements, and vendor audit program
Results from our Recent Matters
Refreshed capitalization table and establish a global equity program and training for 400 participants at an emerging growth company.
Led $800,000 seed fundraise for a fin-tech company and launched an internal long term equity program.
Completed a comprehensive review of corporate insurance programs and Increased directors and officers coverage for an emerging $50M+ revenue company
Read more about our specific success stories here or contact us directly to see how we can support you.