Legal teams are at the heart of any successful growth company. These companies are always focused on building enterprise value, which can only be achieved if your legal function is also positioned for success.
modCounsel provides a concierge legal service that integrates right alongside your team to help you deliver on business results. Think of us as an experienced risk management voice improving the quality and speed of decision-making from deep inside the trenches. We work exclusively on referrals to ensure a consistent experience for our clients. They will tell you this is a much smarter legal model.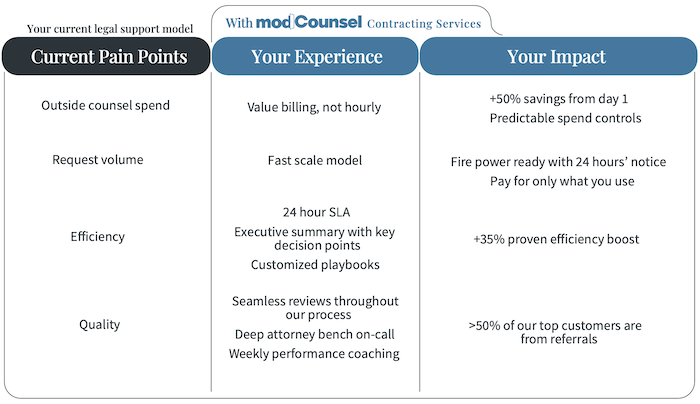 24-hour turnaround time
Integrated legal team accessible on your tools and in your workflows
Experienced leaders drafting, negotiating and managing your contract risk
Contracting Service Offerings
Annual unlimited requests with a dedicated relationship leader to manage quality and scale
Per contract to provide you capacity when you need it at a fixed price per review
Special projects for short-term absences, quarter end, contract analyses and migrations for CLM implementations
Indicative Client Engagements
Late stage unicorn company to negotiate client, partnership and vendor contracts as an embedded team inside our client's tools and workflows to help ramp a new general counsel.
Emerging $50M+ revenue company to migrate existing clients to annual commitments with data and intellectual property rights in preparation for their first venture capital investment.
Publicly listed breakout technology company to review global commercial agreements within 24-hours to meet the volume of sales and vendor requests from rapid business growth and geographic expansion.
Results from our Recent Projects
Established contract intelligence and risk management covering 20,000+ client engagements
Drove 40% more efficiency with a contract negotiations playbook and alternative clauses library
Simplified client MSA to be 33% shorter and benchmarked industry terms and battle cards
Live-Trained 150 person sales organization on deal negotiations with workshops
Read more about our specific success stories here or contact us directly to see how we can support you.